British Airways are going to completely ban kayaks on all flights from the 6th November.
In the past British airways has always been known as an airline that has given its sporting customers excellent service. But now, it has banned kayaks and other sporting equipment from being carried on their planes.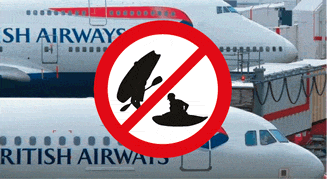 Sporting equipment we do not carry (effective from 6 November 2007)
Due to the large size and handling complexities, some sporting equipment cannot be accommodated through the airport baggage system or within the aircraft hold. Therefore we no longer accept the following equipment at check-in as part of your sporting equipment allowance.


Hand gliders
Windsurfing boards
Surfboards
Kayaks or canoes
Pole vaults
Javelins


Is this a trend that other airlines will follow?
British Airways, like other successful large companies will have done a cost benefit analyses before making this decision. So on paper they probably have figured that in the future it wont be worth charging for kayaks and that the best solution is just to ban them. I fear that BA is a trend setter in this respect. This is a compelling reason why we should try to make British Airways reconsider their decision.
I understand that for various reasons carrying kayaks for free is unsustainable for BA. That is why I would not oppose a fixed fee for carrying kayaks. However I strongly oppose this outright ban and I wonít be travelling with BA until it is rectified.

Please make sure that BA hears from you on this matter. Ensure that kayakers can travel easily from country to country.
What can we do?
Email BA
Contact them and tell them how you feel about the ban and what effect it will have on you.
(N.B. make sure to complete the process, a few windows after you think you\'ve submitted the message, otherwise it wont be sent)
Lobby
The main stream media think itís a surf board ban.
There is a chance that the ban might be lifted just for surf boards and not kayaks.
Itís important that the kayaking representative bodies take a proactive stance on this issue. That they contact BA on our behalf and lobby for our cause.
Join the Surfers
The surfers have proven that they are power to be reckoned with on this matter. If we join forces with them we might be able to grab more media and attention for the cause.
Keep in touch
Keep in touch with what the kayaking community is doing about the problem.
UKRGB Forum discussion