Print Guide

Woodstock Falls (Inistioge)
| | | | | | | |
| --- | --- | --- | --- | --- | --- | --- |
| | | | | | | |
| | Grade: | | 4 to 5 | | Rating: | |
| | County: | | Kilkenny | | Date updated: | 18/09/2009 |
| | Section Length: | | 0.5km | | Version: | 1 |
| | | | | | | |
Brief River Description
The main event is a two tier S-bend fall into a pretty shallow pool with tight run out rapid to finish
The entry to the first slide to the bottom of the larger fall is about 25ft-30ft.
I have only seen this at a runnable level once and I was lacking both safety to cover the drop and the balls to do it.
This as far as I can tell is a first descent up for grabs, I had intended on having it myself but I'm not around the South East enough any more to catch it in prime condition.
Directions to the Put-in
This fall is situated in the grounds of Woodstock house in Inistioge Co. Kilkenny. The house is well signposted from Inistioge village.
Once inside the estate grounds keep driving along the track past the main house and visitor area, from here you may want to take your time as the track will make short work of your suspension if you drive quick.
Take the second track on the left you pass and stay doing down hill and right if you catch my drift. There are a few different tracks but all kinda end up at the same location.
You will know that you have arrived once you reach a clearing with a small stone bridge on your left and the run out rapid to your right.
Park here and walk up river left to scout / paddle.
Directions to the Take-out
Take out at the bridge where you parked.
River Description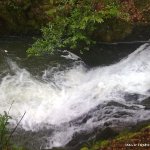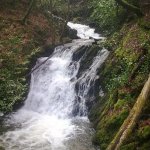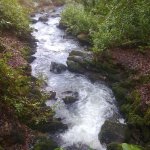 Follow the track across the to above the "viewing bridge" and you can see the whole run.
While the actual line is not overly challenging there is a must make / ballsy move down the larger of the drops.
At the runnable level I have seen it at if you were to get things wrong you would be in a world of pain & trouble. I suspect this is one of those falls that looks easier that it is and not a place for have a go hero's.
Local issues
No known issues, I have met park rangers twice when I have gone to look at this drop and they thought I was "mad" and wished me luck.
River level gauge
When there is heavy heavy rain in the South East, when everything else is crazy high, give this place a look.
River Hazards
There is a shallow pool at bottom of main fall. There are lots of trees in river and the run out rapid is tight with allot of water on it.
Author(s)
Original Author: Adrian Shanahan
---
Please use the forum for banter or questions.
Please add river details by adding to/editing the guide.